Superior Spider-Man Vol. 2: A Troubled Mind (Marvel NOW!)
Something... Something... SUPERIOR!
Writer: Dan Slott
Artists: Humberto Ramos and Ryan Stegman
Collects: Superior Spider-Man #6-10
With the Marvel NOW! initiative, Dan Slott changed Spider-Man in ways that sent shockwaves of anger through Spidey's fanbase; Spider-Man is no longer Peter Parker.
Okay, the change was never going to be permanent, but at the time, that's what Slott was selling it as. People were attached to Peter, the guy who had been through hell, but still managed to be the nice guy who didn't finish last. Now Peter was gone, his mind replaced by the mind of Otto Octavius (AKA Doctor Octopus). It's not a change that sat well with fans, despite story quality.
The first volume was mostly set-up. We learnt that even though Peter Parker was technically dead, a portion of his mind was still around, influencing Otto's decisions. Otto didn't quite know it at the time, but a genius like him was gonna find out sooner or later.
GRRRR! HOW DARE THEY GET RID OF PETER PARKER! DAN SLOTT'S RUINED SPIDER-MAN! HOW DARE THEY CALL THIS SPIDER-MAN "SUPERIOR"! THEY'VE MADE HIM AN ANNOYING, SELF-RIGHTEOUS TWIT! DAN SLOTT DOESN'T KNOW HIS FANBASE! HE DOESN'T KNOW THE FANBASE! HE DOESN'T KNOW COMICS! YOU KNOW WHAT THE INDUSTRY NEEDS? STAGNATION! NEVER CHANGE CHARACTERS, NEVER HAVE NEW IDEAS!
Okay, those fans who are four-year-olds in adult bodies, happy now? I raged at Superior Spider-Man, an essentially excellent series that actually gives a half-fresh take on the character. But I'm gonna stop now, because Superior Spider-Man's second volume, A Troubled Mind is great, if not as good as the last volume, and you'd be crazy to not read it.
"So, I was watching The Bold and the Beautiful, right? And..."
So, Otto has been continuing his penchant for brutalising villains, and that disturbs the superhero team that Spidey's been a part of for a while. No, not the Fantastic Four; the Avengers. The thing is, Otto is absolutely unapologetic about it. In the meantime, Otto's catching on to the fact that there's still a remnant of Peter Parker left in his new mind, and it's time he left for good.
Plot-wise, it's nice to see that, apart from J. Jonah Jameson (who absolutely loves this new Spidey), nobody else is really convinced that this is a Superior Spider-Man. I love Otto as the new Parker, but it's nice to see that people are suspicious about this very unfriendly neighbourhood hero. Carlie is still looking in to him, the Avengers renounce his membership and Mary Jane gets very disappointed in him when he doesn't save her, calling the fire department instead. Indeed, what this issue does best is raise questions about the notion of being "superior". Otto may be superior in terms of his methods, but his heroism in still inferior to Parker's.
That said, the middle of this collection drags just a little bit. It's mostly Avengers debating and running tests on Otto to make sure everything's happening in Paters mind. I don't mind an actionless issue or two (not that these issues are actionless, but those action scenes are certainly unengaging), and in A Troubled Mind, it certainly has its place. But the book's main villains are the Jester, Screwball and Peter Parker's memory. That's not a memorable lineup- especially when last volume treated you to the likes of the Vulture.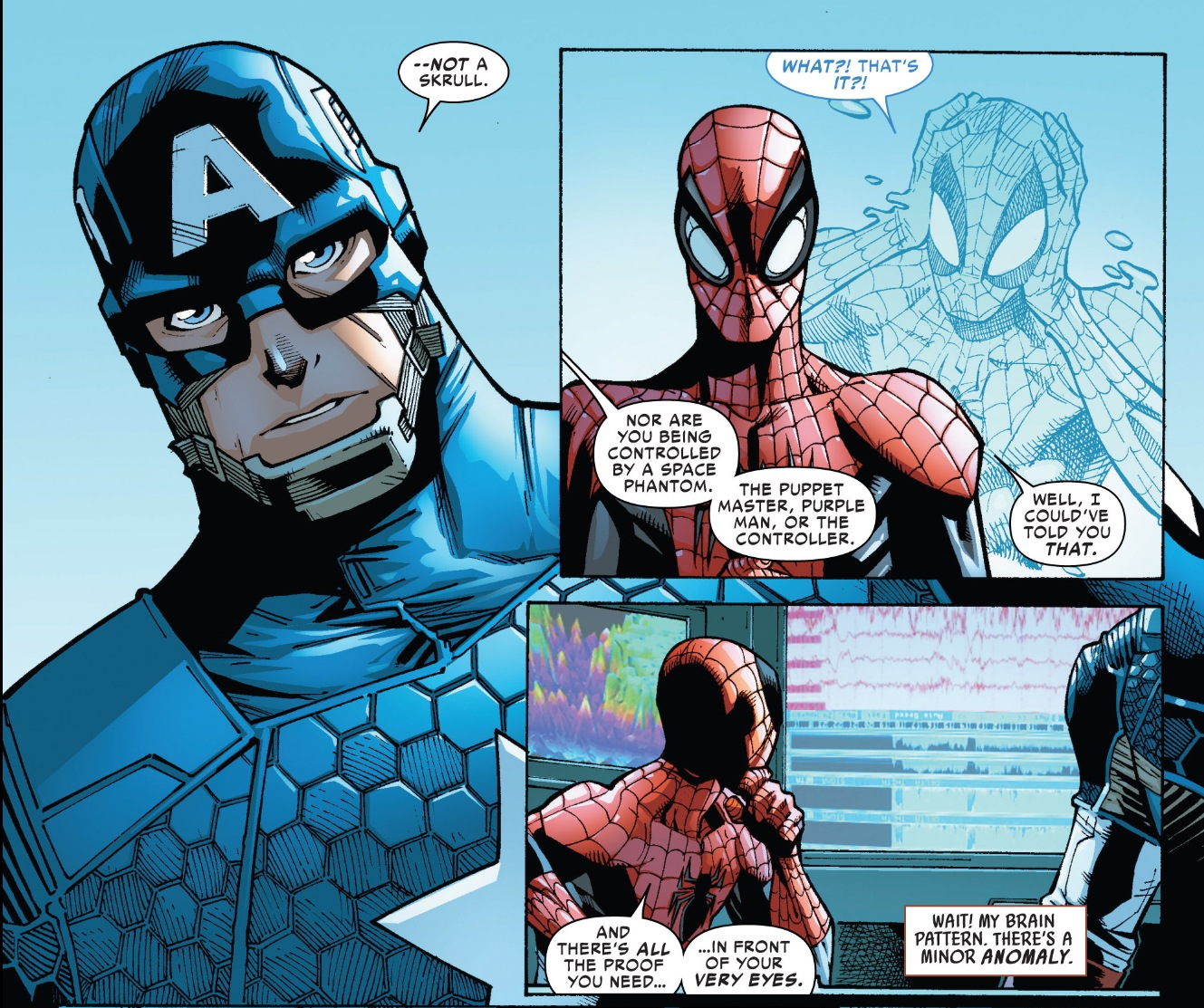 Cap looks so serious sporting a stupid-looking chin-strap.
Art here is just as good as you would expect it to be if you've read My Own Worst Enemy. Spiderman comics tend to lend themselves to an unrealistic, but highly stylised form of art and that's just what you get here. By now, it's nothing groundbreaking; you've seen this in the last volume, as well as in Scarlet Spider and Spider Island.

All in all, though, A Troubled Mind, while not being as good as My Own Worst Enemy, is still notably good. It gets a three and a half out of five four-year-olds in adult bodies.
+ Questions the notion of being "superior"
+ Not everyone's convinced that this is a better Spidey.
Alternate Option: Scarlet Spider: Lone Star
If you can't stand the idea of Spider-Man proper being dark, check out Spidey's darker clone, and, y'know, stop whining.