Batman Vol.5: Graveyard Shift (The New 52)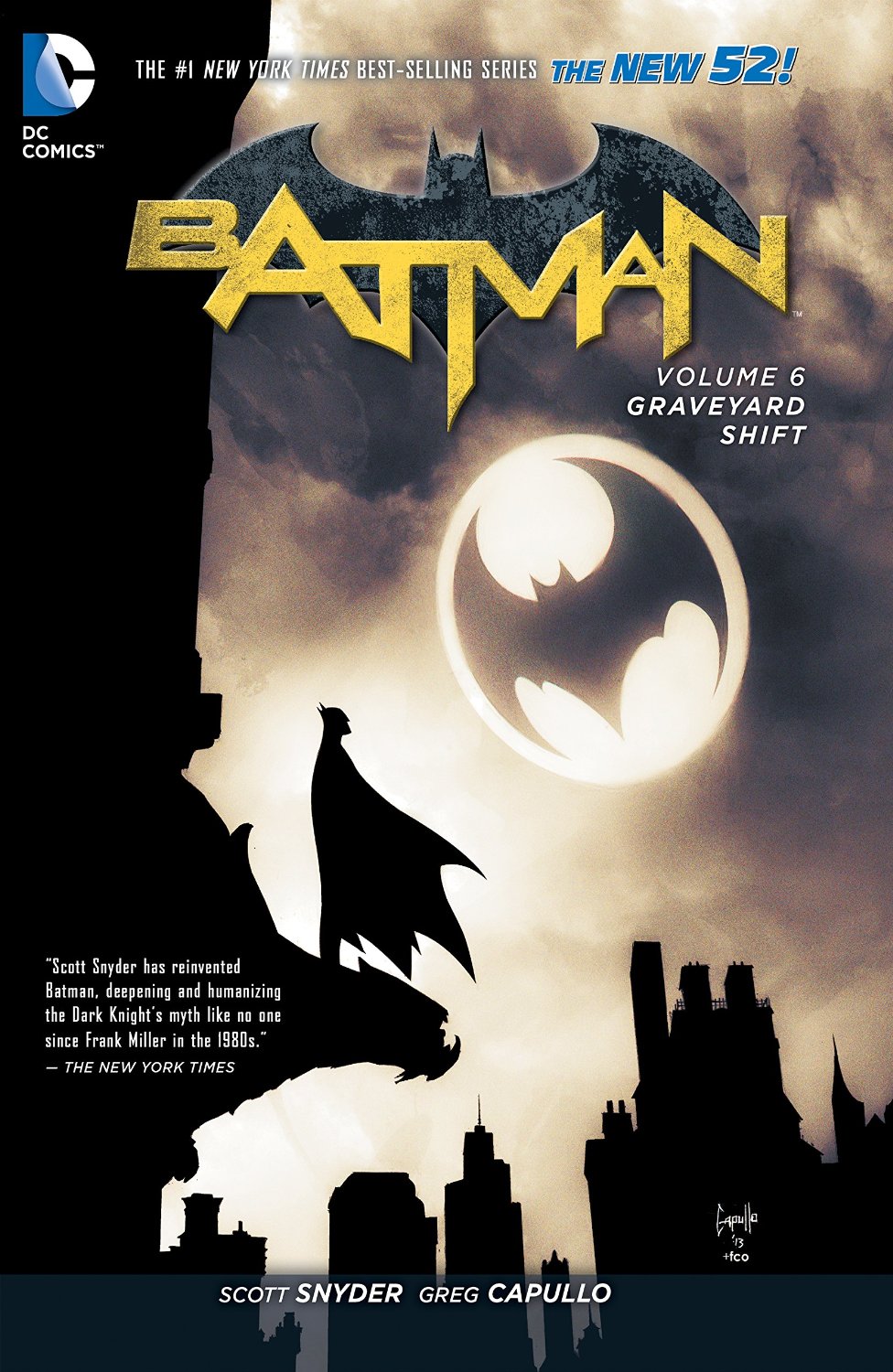 Do you get the feeling that anything in
Gotham remotely bat-shaped
belongs to Batman? I mean, that ain't
the symbol on his chest...
Writer:
Scott Snyder
Artist:
Greg Capullo
Collects:
Issues 0,18-20, 24, 34, Annual #2
Background information:
I'm back!
Scott Snyder's
Batman
has been killing it!
Yes, yes, I know, Snyder's mono-named title is no more, and but for
All-Star Batman
, his work with the character has reached a permanent end, but there's something to his writing that makes me feel like this is the only
Batman
book I need to read. Snyder has shown us Gotham as a character in Batman's world with as much autonomy as any person living in it. He's been deliciously creepy and has dived head-first into the psychological depth that has given Batman his reputation amongst comic readers.
In the past,
Batman
trades by Snyder have focussed on one singular story. Because of this, it's easy to trick yourself into thinking that Snyder writes no fillers at all. More on that below.
Review:
No writer can avoid filler issues completely. Like death and taxes, one day you'll have to write a story just to meet an editorial deadline and
Batman
had it's share
I mean, this has no bats, but there's no Batman yet, so...
So now we have
Graveyard Shift
the sixth volume in the Batman run that has ended world hunger,
eliminated world debt cured cancer and made sure we NEVER have another Shrek movie.
And oh, how the mighty have fallen.
Okay, I'm making it seem worse than it actually is.
Graveyard Shift
is a collection of issues that apparently didn't fit anywhere else (except for issue #0, which TOTALLY should have been in the first
Zero Year
trade). As such, there is just about no plot to speak of. Harper Row auditions for the Bat-family, Batman busts up Catwoman's mob house, Arkham Asylum gets haunted and Clayface does usual Clayface stuff.
These are all single issue stories and none of them are bad per say, but Snyder has always made stories that cover 10-12 issues; the kind that need to be told in two trades (
Court of Owls
and
City of Owls,
the two
Zero Year
volumes, even
Death of the Family
seems ready to get its second part in
Endgame
). To have stories this short feels like a waste of Snyder's talents. Usually this wouldn't matter, were these issues peppered throughout the actual series. They might have even been entertaining departures from the norm. However, because this is all we get, there's this constant feeling that you're at a fancy restaurant being offered nothing but appetizers.
A far deeper problem, though is that each one of these issues takes place at drastically different times in Snyder's run. We go from Zero Year, to just after Damien's death, to the middle of
Batman Eternal
, to just before
Endgame
. Because of this, the whole book feels ungrounded and you get the feeling that there is absolutely no point in reading it.
But see this? Totally has a bat and Bruce is just like "I'll take
THAT!"
Which is a crying shame, because some of the easter eggs in this volume are excellent. Most notable is the appearance of the
Batman Beyond
suit complete with wings and rocket boots, but you also have to appreciate Snyder's clever use of foreshadowing. I won't spoil it, but there's one issue here that feels like it's going to matter a lot to
Endgame.
Greg Capullo's art continues to be as strong as ever here. To him, Batman's world is vibrant and colourful and that gives Snyder's dark stories the feeling that this is more of an alien world than Gothic-inspired city. You know you've done something right as an artist when, even when things are clearly visible, you still find yourself terrified of what might be around the corner.
If you're a completionist like me,
Graveyard shift
is going to be a fairly compulsive buy. Let's face it, there's no way you're skipping from Volume 5 to Volume 7! What kind of savage are you? That said, it's best to keep your expectations low. This one gets a two and a half out of five Shrek films.
** 1/2