Batman Eternal Volume 2 (The New 52)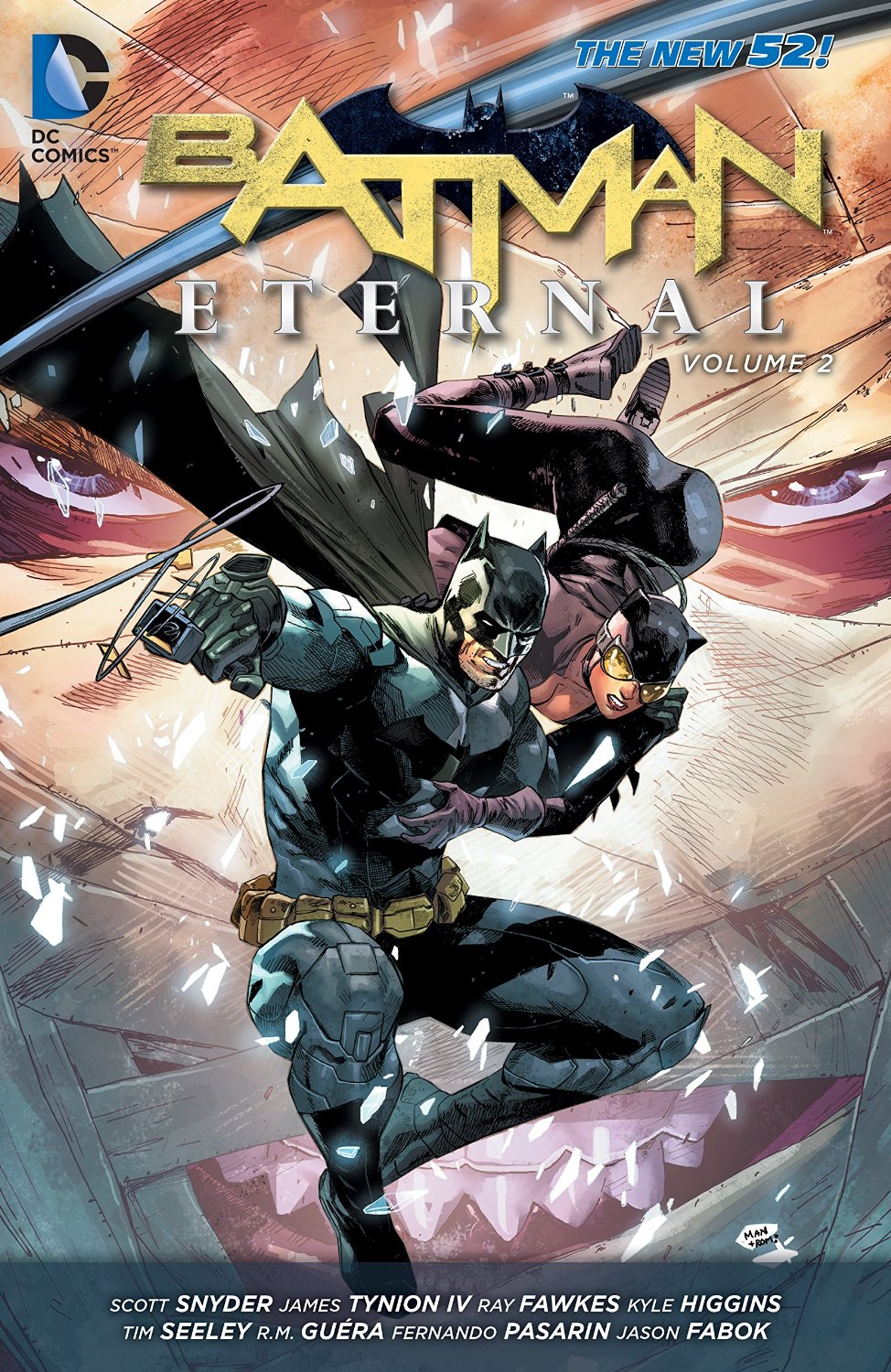 Escaping from Hush's giant face!
Writers:
Scott Snyder, James Tynion IV, Ray Fawkes, Tim Seely, Kyle Higgins
Artists:
R.M. Guera, Fernando Pasarin, Jason Fabok, Jorge Lucas, Dustin Nguyen, Andy Clarke, Javier Garron, Meghan Hetrick, Simon Coleby, Alvaro Martinez, Derek Fridolfs, Matt Ryan, Paul Fernandez, Juan Ferreyra
Background Information:
Thanks to a pursuit-gone-wrong, Commissioner Jim Gordon is now in jail. Without him, Batman and the Bat-Family (minus Nightwing because Geoff Johns) began running wild around Gotham chasing different disasters. Central to this, was a gang-war between crews own by the Penguin and Falcone. to the side, Batgirl found out that Commissioner Gordon wasn't responsible for the events that got him arrested at all, Red Robin joined up with Harper Row to investigate a mysterious sickness and Batwing joined the Spectre chasing down a paranormal threat in Arkham Asylum.
Review:
I mentioned this in my review of
Volume 1
, but there are a few things you can say in the review of any weekly series, so I'll get them out of the way now.
There are a LOT of issues in
Volume 2
that seem like filler more than actual story progression. There are too many moving parts to make it easy to follow. Many moments feel like they lead nowhere and nothing gets resolved in a satisfying way. Out of the way? Good.
Yeah, get back you dodgy-looking welcome sign!
Eternal Vol 2
's main focus, as much as a weekly series can
have
a main focus at this stage, is Hush. His story is no different from the character's introduction; he rallies different Gotham villains against Batman in an attempt to become Bruce Wayne. We've heard this before and, honestly, Jeph Loeb did it better. That said, the worst story featuring Hush is still better than the best story featuring Bane, so I guess we're even.
What makes the story memorable, however, even what sets it apart from the previous volume, is Catwoman's story arc. Her transition from common their to lord of the criminal underworld allowed her to be more than the usual pandering to boys who have just figured out that girls are not as yucky as they once thought. It's honestly rediculous that this is the volume's B story because this is where the character development happens.
And I mean that. Harper Row and Red Robin's story takes break here; or, more accurately, so little of consequence happens during it that I didn't realize if it was actually happening at all. Batwing's story plods along at the breakneck pace of a slug who's ingested all of his grandmother's supply of medical cannabis. There's a weird and honestly creepy hint at a romance between Batgirl and Red Hood that makes me wonder if maybe the writers didn't get on to some of that cannabis too and Nightwing isn't allowed to exist because Geoff Johns was in a bad mood when writing Forever Evil.
Again, all of this is commonplace for big weekly titles- you get a tight publishing schedule, so writers tend to go with whatever first pops into their heads. That gets worse when books like these necessitate multiple writers. It's not really the book's fault, but that doesn't make the story any better.
Well well well, SOMEONE'S been watching a lot of HBO!
I understand multiple writers making a book seem messy, but what really hit me over the head was the inconsistent art. If this was a Marvel book, I wouldn't be surprised, but DC, especially during the New 52, had a "house style" when it came to art. With so many artists that seemed intent on imitating Jim Lee, the selection DC has made for this book is, frankly, bizzare. One moment, Red Hood has a mouth, next issue, the mask is totally solid. One issue, Batman sports five o'clock shadow, the next sees him clean-shaven. It's distracting at best and plain annoying at worst.
But that's the way weekly books go, I guess and Batman Eternal is the weekly bookiest weekly book to ever weekly a book. It gets 3 out of 5 of Grandma's cannabis pills.